Artweek Auckland 2017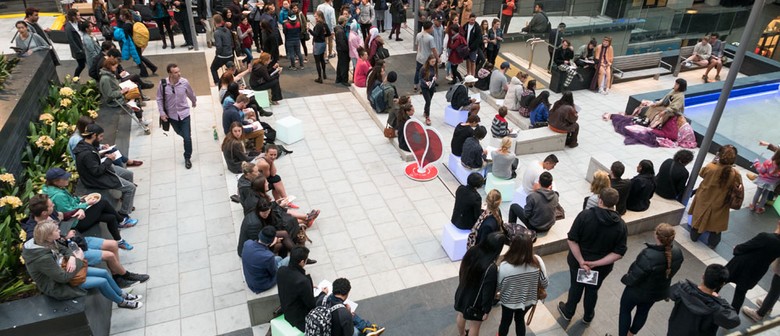 Artweek Auckland is an annual, week-long festival celebrating the visual arts of Auckland.
7-15 October 2017
Admission: Free
Where: Throughout Auckland
Artweek Auckland is a 10-day festival celebrating the visual arts community of Auckland.
Whether you are an art expert or an absolute novice you can immerse yourself in Auckland's amazingly vibrant art world at any level. You are encouraged just to look, enjoy and participate.
The Artweek programme divides Auckland's sprawling metropolis into precincts for ease of discovery.
The week kicks off in the CBD on Friday 7th October, with Peter Roche's astonishing multi-sensory art installation Asylum in Silo Six at the Wyndham Quarter for the week. With its dramatic subject matter, universal themes and thought-provoking content, Asylum is a provocative and timely installation destined to become a major talking point for Artweek visitors this October. The Heart of the City becomes alive with over forty art events, activations and exhibitions, including a new project 'Changing Lanes' where teams of artists transform six city lanes for the week, bringing thought provoking installations that add character and life to the cityscape. Late Night Art is Wednesday this year with galleries open late, including the Auckland Art Gallery and a buzz of other activities and activations until 9 pm in the central city.
Ponsonby presents a lively Artweek programme with special guest Reg Mombasa in town for his new book launch and exhibition. Be prepared for another mugging as Studio of Potters entice you into the world of the handmade by their incredible generosity mugging you in the best way.
K Road introduces Electric Night on Thursday 13th, galleries along the road and into Arch Hill open late with an exclusive art party at the iconic Las Vegas Lounge. Explore the installations along the road on an electric bike tour; from Look, to the galleries and the artist's collectives, all truly reflect the cultural diversity and creative talent of the street.
Glow is back in Devonport with teams of Unitec School of Architecture students presenting their stunning light installations. The Devonport village gets involved in the week with exhibitions, art films at the Vic, special offers on dining and much more.
Newmarket and Parnell celebrate their public art and fantastic galleries with walks, talks, interactive shows and life drawing.
West Auckland delivers an amazing range of events for the whole family, from Te Uru's major John Parker survey show, exhibitions, talks and open studios at Corban Estate Art Centre, McCahon House, Kumeu Arts Centre and a hive of activity at ArtWest hosted by Kelston Girls College, which invites you to participate in free art workshops, artist talks, performances and tours.
Go South during the week to discover all on offer including a look at the Wallace Art Award Winners for 2016 at The Pah Homestead, panel discussions, exhibitions and workshops at Māngere Arts Centre, Franklin Arts Centre, Papakura Gallery and Fresh Gallery Otara.
East brings an all-star lineup as after two decades of dedication to graffiti, TMD celebrates their 20th anniversary with a group exhibition, including new works displayed between The Good, The Bad and Te Oro. A late night at Te Tuhi encourages visitors to get involved with artist run games and activities, a supporting event to their International exhibition Share Cheat Unite.
All of this activity is connected with free guided walks and cycle tours, many of the tours book out quickly, so plan the week in advance- sign up for our email updates on the website and get notification of events. Booking are all through the Artweek website this year so get in early.
See the Artweek Website for the full itinerary.
ref: www.eventfinda.co.nz
Back to Digital Talk